Ambassador Program
About this Program
Shorter Finance is a 100% on-chain infrastructure comprising venues for 2,000+ altcoin single-sided farming and customized derivatives trading.
Shorter's ecosystem is rapidly expanding in the DeFi space - not only because of its close-knit community, but also because of its safety-first transparent management mechanism. Ambassadors are key ingredients to Shorter, contributing to the growth of this unprecedented protocol.
Drive Shorter adoption and promote the brand within your strengths, and bring honor and income to yourself.
Ambassador Benefits
Competitive Salary
Receive a generous wage for your efforts in spreading the word about our brand.

Result-Oriented Bonuses
Earn uncapped incentive income by consistently meeting monthly targets.

Network Opportunities
Build personal relationships with Shorter team members, brand partners, and crypto influencers.

Public Recognition
Host online or offline events and become the official Shorter representative in your area.

Mentoring Resources
Enjoy training and guidance chances from blockchain industry professionals.

Exclusive Access
Hear first-hand updates about Shorter's upcoming features, official releases, and exclusive news.
Ideally You Are:
University students, graduate degree students, full-time professionals, and crypto community members, who are 18 years old and above, are encouraged to apply.
Passionate about and believe in Shorter Finance
Eager to get more involved in the DeFi landscape
Are excited to impact the growth of Shorter Finance
have good communication skills in English and additional languages
Are interested in networking with other people in the crypto community
Share your feedback even in stressful situations
Have LOCAL connections in the crypto spheres
If that sounds like you, then you are the one we're looking for!
Responsibilities
As an Ambassador, you will be encouraged to be self-motivated and dedicated to producing measurable results while promoting Shorter in your country and playing a key role in building the local Shorter community.
Duties may include both content creating and marketing components, such as:
Weekly and ad-hoc tasks assigned by Shorter team
Embed into crypto communities, participating and building relationships in community hot-spots throughout Discord, Telegram, Twitter, and elsewhere
Generate research reports, market analysis, or video tutorials on emerging trends
Speak to influencers and represent Shorter Finance at local events
Strengthen our local marketing and business relationships
Reach out to potential partners for our DeFi product
How to Become a Shorter Ambassador
All you have to do is send us your resume and a cover letter explaining what you'd like to do as an ambassador. Contact Us: [email protected]
We care about: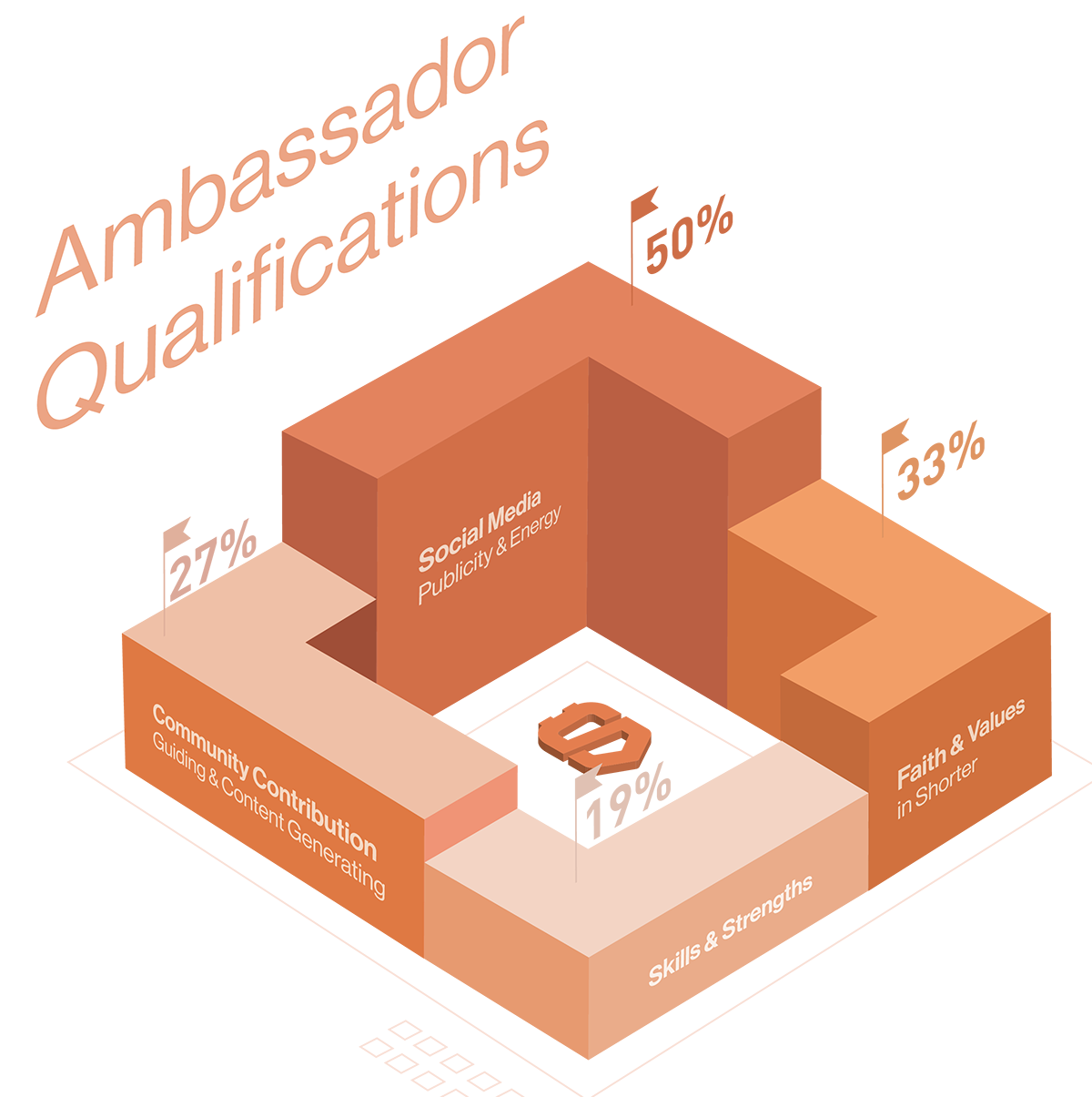 Social Media: Publicity & Energy
Faith & Values in Shorter
Community Contribution: Guiding & Content Generating
Skills & Strengthens
We prioritize people above all else. If you think you'd add to the depth and diversity of Shorter but don't fit these qualifications exactly, you're welcome.
Ambassador Ladder
💎 Diamond Ambassador
With the highest authority below the Shorter team, who can perform part of the management and task issuance/acceptance.

🧊 Crystal Ambassador
With the highest authority in areas of one regional language, who can perform task issuance/acceptance.

🔶 Gold Ambassador
Ambassadors who represent their regions and routinely perform tasks.

🗿 Candidates
Have the right to challenge Gold Ambassadors (can replace an existing ambassador by winning 2 consecutive tests.)
Ambassador Headcount
In areas of one regional language:
Diamond Ambassador: 3
Crystal Ambassador: 5
Gold Ambassador: 10
In one country:
Diamond Ambassador: 1
Crystal Ambassador: 2
Gold Ambassador: 4